Shampoos to Pass a Hair Sample Drug Test
Zydot Ultra Clean Cleansing Shampoo
Hair Purifying Shampoo is designed for extremely swift yet elegant removal of all toxin residues. Within 10 minutes, you will be in the "Clean Zone" for up to 8 hours. It is safe for the scalp and all hair types. It does not effect color or specific gravity. Works as a "body wash" for body hair in addition to scalp. Drug testing via hair follicle sample has grown into a very popular method to detect drug use without invading ones so-called privacy compared to a urinalysis or a blood test.

$44.00
Product Instructions
Ultra Klean Hair Cleansing Shampoo
Ultra Cleanse Hair Cleansing Shampoo & Conditioner has been specially formulated to remove all toxins from the hair shaft. You will not find a better hair cleansing shampoo in the market today. As with all our products, we back Ultra Cleanse with the industry's only 500% Money Back Guarantee! You Will Pass Your Hair Test With Our Shampoo!

$44.00
Product Instructions
Nexxus Aloe Rid
ALOE RID GENTLE CLARIFYING SHAMPOO delicately removes residual buildup, chlorine, environemental pollutants, hard water minerals and hair dulling impurities for refreshingly clean, healthy looking hair. Time released Antioxidants effectively quench damaging free radicals that are deposited by harsh chemicals. This gentle, Aloe Vera based formula conditions both hair and scalp.
Use as your everyday shampoo in addition to Ultra Cleanse Shampoo.
Cleans the oils from the scalp, where toxins are found use the product in the days leading up to your test.
Deep cleaning formula delicately removes residual buildup, environmental pollutants, chemicals, chlorine, hard water minerals, and hair dulling impurities.
Five ounces of gentle clarifying shampoo.
Advanced microsphere technology provides the gradual release.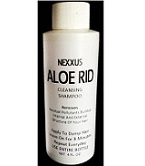 $185.00
Product Instructions
HairConfirm™ Hair Drug Test Kit
HairConfirm™, the perfect drug testing solution for parents gives you the peace of mind that you can monitor your teen for possible drug use with one simple test every 3 months. The kit comes complete with sample collection and overnight shipping materials, to provide you with the fastest turnaround time in Hair Testing. Results are available in just 3-5 business days!
$125.00
Product Instructions